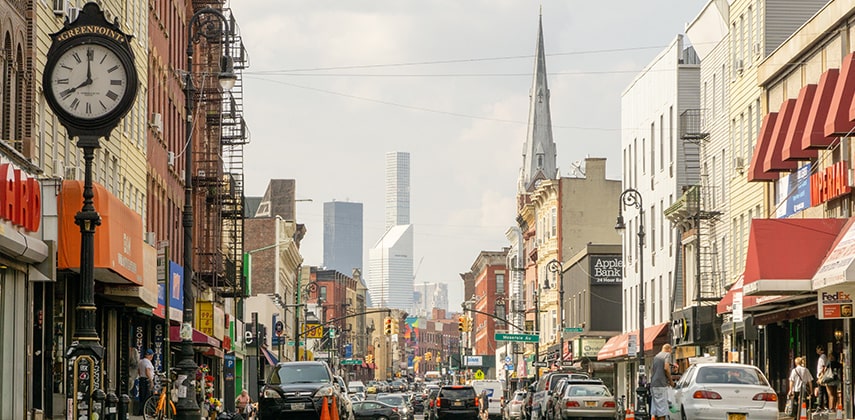 Sitting at the northernmost point of Brooklyn, NY, Greenpoint is one of the most unique in the area. Once farmland and then a large stretch of riverfront factories, it is today a diverse residential area with many homes in an array of architectural styles. Popular with people who commute into Manhattan, it is a spot in which quiet domestic life prevails. Even so, it does not mean that the dirt and debris of city life does not make its way indoors, causing your carpets to become soiled, faded and even damaged. The good news is that expert carpet care is available from Smart Choice Carpet.
Maintain the Beauty of Your Home with Carpet Cleaning Services in Greenpoint
Throughout the four seasons of the year, you bring dirt and debris into the home every day. You track it in on your shoes, but it also arrives in the form of air pollution and even from cooking or issues inside of the home. This has long term effects on carpets and is why expert carpet cleaning services are so valuable. The team at Smart Choice Carpet can come to your home and pick up the rugs to be fully cleaned. Whether fine Orientals or everyday rugs, they will be cleaned with top of the line gear, ecofriendly chemicals and expert care.
Why Oriental Rug Cleaning Services in Greenpoint Are So Important
Of course, if you are in need of oriental rug cleaning services in Greenpoint, it is important to know that there are some differences in this sort of work. Oriental rugs are often made of finer materials and they are crafted with unique techniques. It takes knowledge about the fibers and the weaving methods used to safely and effectively clean such rugs. Even more important is that it also requires expertise if damages need repairing.
Find Trustworthy Rug Repair and Restoration Services in Greenpoint
Not all rug repair and restoration services are the same, and if your finer carpets have some unraveling, fading or even damage, you want experts who can first clean and then restore them. Smart Choice Carpet in Greenpoint is the right solution.
Call Us Now!
Smart Choice Rug Care