Kashmir Rug Repair & Restoration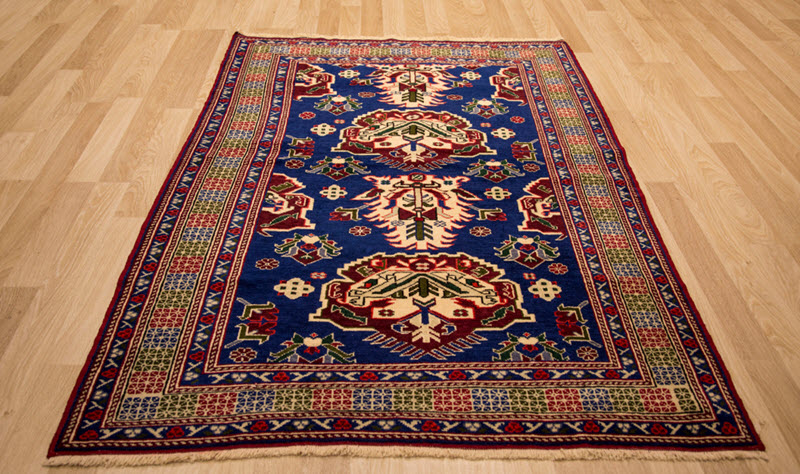 Kashmir Rugs are a luxurious home addition that can enhance the interior décor and also improve house value. Despite the high-quality material and beautiful patterns of a Kashmir rug, improper care can ruin its appearance and make it prone to damage. As they are hand-knotted and comprise highly intricate hand-weaving procedures, it is best to leave Kashmir rug repair and restoration to professionals.
If you want to revive your old, worn-out, or damaged Kashmir rugs, Smart Choice has you covered. We can perform expert-level rug repair and restoration for all types of carpets and rugs, including Kashmiri.
Kashmir Rug Repair Process
Kashmiri Rugs are famous among style and luxury lovers worldwide due to their designs, patterns, and weaving techniques. They comprise the best rug and carpet material, including silk and wool at the top of the list.
Most Kashmiri rugs and carpets are either made of silk or wool. These natural fibers are highly valuable and add a luxurious touch to Kashmiri rugs through beautiful textures, formats, designs, etc. However, these rugs require professional rug care, which encompasses using appropriate cleaning, repair, and restoration processes and techniques.
It is true that stains, unraveling, and/or tears demand quick attention and care. But, it is no reason to take on the entire restoration and repair task all on your own. In fact, professional rug repair is essential to prevent further damage to the carpet.
Not to mention, it is not a DIY project as you may not be able to restore the rug to its original condition as a professional rug care service. While a luxurious Kashmiri rug may not be impervious to most damage, proper rug repair results should last fairly longer than usual.
Here are a few steps of repairing a Kashmiri Rug at Smart Choice with the team of experts and experienced professionals:
Initially, depending on the type of material of your Kashmiri rug, the experts will procure the exact material to hide any tears, holes, etc. For example, if a Kashmiri rug is made of silk, the experts will search the best material to match the exact type of silk for repairs and restoration. After selecting the right material, our team will dye according to the color and shades of the original rug.
Following that, as the Kashmiri rugs are hand-woven, they require careful checking. For that, our team will spread the rug on a loom. This will allow thorough checking for any unseen defects and hidden tears/wear. What's more, this will also give time to repair the small holes, tears, and other damages that don't take much time.
Our experts will check if your rug needs any fringe repairs. As fringes lay the foundation of most rugs, our experts fix them first in rug repair and restoration. Unraveling damaged fringes allows us to repair any hard-to-reach spots on your Kashmiri rug.
Sometimes, fringes require replacement rather than repairs. Therefore, our experts offer read-made fringes that can act as fastened seals to prevent any unraveling of the main warps and wefts. Or, we can hand-weave an entire fringe for your Kashmiri rug to maintain its quality and integrity. With wear and tear, a Kashmiri rug will need re-weaving to restore its shape and condition.
After examining the pattern and the material to re-weave, we begin the process. After experts take care of any holes, wear and tear, they may re-color, stretch, clean, wash, and dry your rug before returning it to you.
Did you know that Kashmiri rugs can have more than 900 knots per square inch? That is one of the reasons why Kashmiri rugs are the best for adding a traditional touch with modern décor.
The designs, material quality, integrity, weaving, and color palettes are all that set the Kashmiri rugs and carpets apart from others. They have bold color palettes that add to their beauty. Most of the Kashmiri rugs are of high value as they originate from the main regions of Kashmir (near border Pakistan and border India).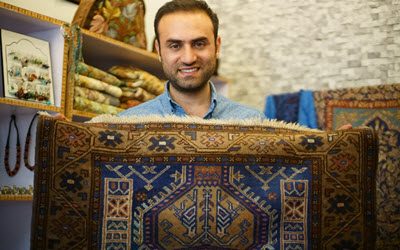 It's not just the weaving techniques, and the time it takes to fabricate a Kashmiri rug but also the level of design that increases its beauty. That is why they require the most professional and high-quality rug repair and restoration processes. As Kashmiri rugs also come in a variety of shapes, sizes, and colors, they may require different rug care techniques at once.
Here are some of the common Kashmiri rug repair and restoration practices to revive your damaged rug to its glory.
Considering that your Kashmiri rug is hand-woven, there are rare chances of the fringe unraveling on its own due to age. Kashmiri rugs involve perfection, which means only any external or intentional damage can ruin their design and décor.
Activities around the place where you have kept your Kashmiri rug can affect the integrity of its fringes. Fringes comprise extremely tight knots that hold the warps, wefts, other threads in the rug from unraveling. They also reflect the design in most handmade rugs (including Kashmiri Rugs).
Fringes can suffer damage due to several reasons, including heavy furniture, extensive foot traffic, harsh object movement over the rug, and damaging cleaning methods. Once the fringes experience damage, your entire rug is at the risk of unraveling.
The good news is professional rug care services at Smart Choice aim to deliver timely completion and attention to such rug problems. Our experts loosen the fringes to make sure there aren't any tears or holes. After that, they will re-stitch the fringes to fasten them for better integrity. Bear in mind that only professionals can handle re-stitching and re-knotting of damaged fringes, which makes such services unsuitable for DIY.
With silk and wool, it is paramount to take care of the color quality of your Kashmiri rugs. Handmade Kashmiri rugs and volatile materials used for them can easily let the color fade due to several reasons. Certain reasons why Kashmiri rugs may discolor include excessive UV exposure (sunlight), pest damage, water/moisture damage, dust buildup, dirt, etc.
While discoloration is a likely outcome of a rug's aging, it doesn't mean that you should ignore damages from the above factors. Usually, harsh cleaning and bleaching methods can ruin the color of Kashmiri rugs. Therefore, it is better to seek professional rug care services rather than let the damage your precious rug, forcing you to throw it away.
The first step of color restoration of Kashmiri rugs at Smart Choice entails detecting all the color-faded or color-damaged parts. This helps experts identify the dyes and types of color to use in the color restoration process.
Secondly, addressing the main reasons for discoloration is important, as dust and moth damage can stay permanent and lead to holes and tears. After identifying the discoloration causes, experts will clean your Kashmiri rug.
Next, they will either spray-paint the rug or initiate a precise hand-paint technique for maximum color restoration. This will include color syringes and other materials/methods for promising results. Avoid trying to figure the color restoration process on your own. Choosing the wrong color or method on your rug can lead to costly repairs and restoration.
Rug re-weaving addresses rug damages such as unraveling, fringe damage, holes, tears, etc. These are potentially the most damaging situations for a luxurious rug. They can lead to the entire rug unraveling in a short span of time if you don't address these problems quickly.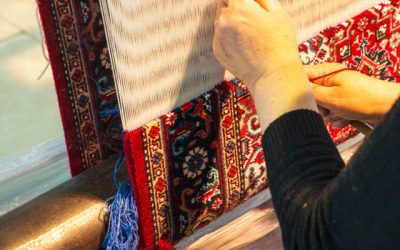 When knots untie, and fringes break, there is little chance that your rug won't start unraveling. Hence, taking it to a professional rug repair service can prevent the loss of your precious rug. Common reasons for these damages are high foot traffic, heavy object placement, heavy movement, pets, etc.
While many rug owners tend to dispose of their luxurious rugs as they start to unravel, you can choose to visit Smart Choice, which offers high chances of rug repair and restoration even in case of severe tear and wear.
Experts will first place your rug on a handloom to unravel the damaged knots and ties. From there, they will start to re-weave the tears and holes using the matching material (e.g., silk, wool, etc.). Addressing the cause of wear/tear, holes, etc., is crucial to prevent further damage to a rug.
Depending on the critical condition of your Kashmiri rugs, the experts will decide if the damage requires minor stitches and re-weaving or long re-knotting and warp/weft weaving procedures.
Water damage is nearly one of the most common causes of rug damage, which leads to rug repair and restoration services. It can occur due to numerous reasons, including ceiling leakages, floodwater, and seepage. Although such damages are common, it is imperative that you seek immediate professional rug care services to restore your carpet to its original condition.
Normally, water contaminates the rug (if it's gray water) and leads to unpleasant smells, discoloration, loosening of the knots, etc. It can easily progress to severe damage and render your precious rugs irrecoverable.
Moreover, water damage can cause molds and fungi growth, which is a major health hazard, especially if you place your Kashmiri rug in your house. Under a period of 48 hours, you should clean and try to dry the rug until professional rug caretakers arrive.
Our experts will identify water spots and assess the severity of the damage. Next, they will decontaminate, clean, wash, sanitize, deodorize, and dry your rugs for you.
As Kashmiri rugs contain natural fiber such as silk and wool, they are prone to moth damage and pest infestations. Despite that, silk may be less prone to moth attacks than cotton and wool. However, moths can build up and consume the fabrics of your rug, leading to noticeable holes, tears, unstitched threads, etc.
Consequently, they can affect the style and beauty of your rug, making the damage look irreversible. Don't worry, as experts at Smart Choice employ moth damage repair practices to preserve your Kashmiri rug. If you notice cocoons moving around the rug, small holes, rough patches, or slightly damp spots, it may be a sign of moth infestation.
Experts will expose the rug to excessive sunlight in order to kill the larvae that may be growing inside the fabrics of your rug. After the UV exposure is complete, they will wash off the moths and larvae. After that, they will sanitize the rug to kill bacteria and germs, after which cleaning and washing will take place. Re-weaving and re-stitching may be necessary to repair any holes, patches, and tears.
Similarly, as the UV exposure may slightly discolor your rug, experts will ensure color restoration to the optimal level. Steam cleaning and hot water processes are common methods to revive your rug's beauty. With our repairs and restoration, your Kashmiri rug may appear brand new despite the number of damages.
Blocking and stretching refer to correcting any curls or wrinkles on your carpet. With high-tech equipment and the latest tools, we ensure the safe and sound restoration of your Kashmiri rug to its original state.
Heavy object placement, tears, and damaging cleaning methods can cause rugs to warp. High foot traffic and moving heavy objects on the rugs are also common causes of wrinkles and curls. Nonetheless, these are quite rarely irreversible.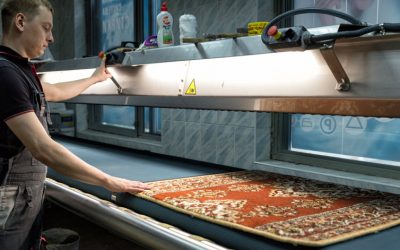 After smooth brushing, our experts will remove the wrinkles and warps. Following that, a heavy object will flatten the rug over the course of several days to ensure that the warps and wrinkles disappear completely. Finally, stretching will restore your rug to its original size before we return it to you.
Overcasting includes the stitching of a material that performs a job similar to fringes on rugs. These overcasts prevent the rugs from unraveling depending on their own strength and durability. As fringe damage can lead to entire rugs unraveling within a short span of time, make sure to get an expert's help.
Conclusion
Smart Choice is one of the top rug cleaning service providers in NY. We offer impeccable rug repair and restoration services to deliver the best quality and satisfactory results. Rest assured, we can restore the beauty, texture, and design of your luxurious Kashmiri rug. You can visit our website for more info on our services and different rug repairs and restoration types.