Silk Rug Repair & Restoration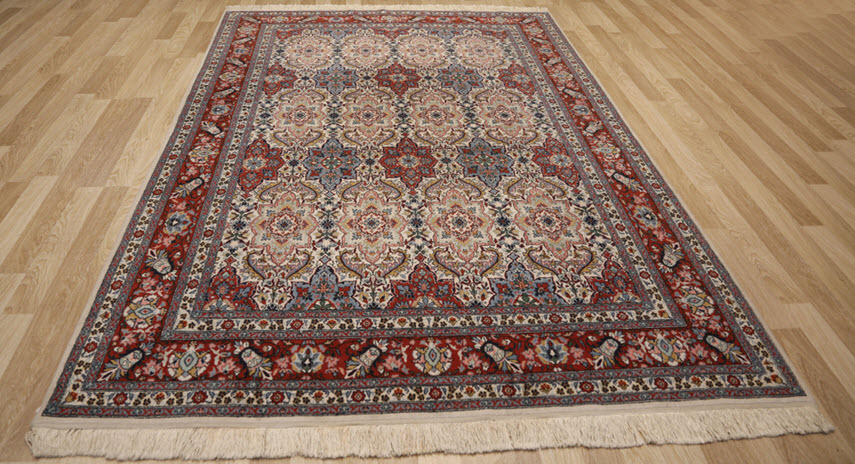 Among all rug types, Silk rugs exude royalty and class. Many people tend to hang them on walls than putting them across a room's floor. Silk rugs add a luxurious feel to any living area. At Smart Choice, our experienced team of professionals offers the finest silk rug repair and restoration services to maintain and restore the texture, color, and aesthetic appeal of your rugs.
We offer due diligence to cater to your silk rug's repair needs and ensure to provide adequate rug care. Further, we have the required equipment, state-of-the-art technology, experience, and the expertise to repair and restore all types of rugs, including silk rugs.
Silk rugs are prone to damage due to their sensitivity and might experience costly damages in comparison to wool rugs. Wool rugs are generally more durable and have a long life span. However, we take pride in our ability to repair and restore your expensive rug no matter how irreversible the damage may appear.
One thing to note is that silk rugs are rarely victim to moth attacks as these tiny insects normally attack the natural fibers of a wool rug. Nonetheless, a silk rug might suffer from tears, holes, and rough patches from other kinds of bugs and pests. The most common causes for silk rug repair and restoration include abrasion damages to the sidings (i.e., the borders that make up the fringes and edges). Overall, Smart Choice is capable of utilizing experience and technology to repair edges, tears, holes, etc., especially for silk rugs and carpets. Here are is the silk rug repair process simplified for handmade silk rugs of the finest quality:
The initial steps comprise the dyeing of silk to restore your damaged silk rug. Despite the repair type, it is important to ensure that the silk material for repair has the exact matching color and accent as the damaged silk rug.
Secondly, before initiating the rug repair for tears or holes, our team ensures excellent pattern recognitions. In simple words, precise reweaving makes sure that the pattern and design of the silk rug remain the same. Hence, it leads to an undetectable rug repair process.
Further, because edges and tears are the most common problems associated with silk rugs, Smart Choice uses an overcast stitch. We then stitch accurate color-dyed silk to the edges and tears (i.e., the damaged area) once they are dry.
Fringe repairs are common among different types of rugs.
Fringes are at the most risk for undergoing abrasion and wear. They are the foundation without which your entire silk rug might unravel. Our expert team will fix those fringes, whether they are completely or partially torn, to ensure that the entire silk rug doesn't unravel, leaving you with a costly restoration.
The discovery of silk has paved various avenues for textile product developments over the course of thousands of years. Despite the old age of this filament fiber, it still remains at the heart of luxury interior lovers who can afford the rich and expensive silk rugs.
Silk is the highest quality of all the rug types, no matter the style, contemporary or traditional. In ancient times, silk rugs were crafted for royal families. Now, people buy silk rugs for their beauty and to express their love for historical antiquities. Many use these rugs as floor embellishments and even pass them down to generations as an heirloom.
While artisans use fine quality materials and religiously weave silk rugs, they are still prone to damage such as intense wear and tear and/or discoloration.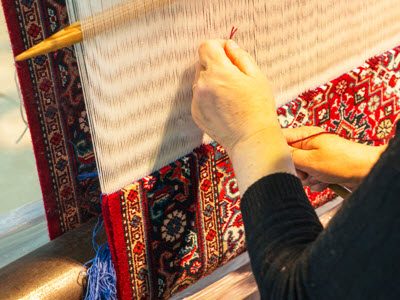 Fringes of the silk rug are more susceptible to damage than other types of rugs. Fringes hang like threads around the corners and the front (and bottom) of the silk rug. They constitute horizontal and vertical warps and wefts that carry knots at the end. They are essential because the entirety of the design and weaving of the rug takes place on it. What you should know is that if fringes start to unknot and loosen up, your entire silk rug may unravel, leading to costly repairs.
When it comes to luxurious silk rugs, people tend to seek professional help for fringe repair rather than making it a DIY task. Fringe damage might occur due to excessive foot traffic or movement of heavy furniture that tears or damages the fringes. One more reason could be your pet's chewing habit. Whatever the reason, ensuring a timely fringe repair will prevent the unraveling of your entire silk rug and a costly restoration process.
At Smart Choice, we employ various methods to repair damaged and torn fringes. The fringe repair process requires precise and intricate weaving techniques to fix and restore it to its original texture. We carefully untie the knots and re-knot fringes. Our experts clean the tassels without damaging the foundation.
A silk rug is valuable due to its luxurious style and design. Therefore, a slight change in color might alter the entire design and appearance of your silk rug. Discoloration or change in the intensity of various rug colors might occur due to extensive sunlight (UV light) exposure, pet urine or feces, bleaching, use of harsh chemicals for cleaning, and/or improper cleaning methods.
Most often, rug owners try to perform rug care by using some paint on their own. However, it is advisable to hire experts for the job. Professional rug cleaners know how to determine the right color restoration process according to the age and existing color depth of the silk rug. A dye master might suggest the use of different blends and specific class of colors based on the rug's age and material.
Beginning with the cleaning to remove excess moisture, debris or dirt accumulation, or even stains, a rug restoration team will determine the focal points for dye needs. For smaller areas that need color or dyeing, syringes are the best option. However, if your silk rug has many faded patches, experts might use airbrushes for consistent color.
In fact, at Smart Choice, we use tipped and precise airbrushes to carry out re-dyeing of complex designs and patterns color restoration for silk rugs. Furthermore, costs will depend on the rug size, dye/color area, and the color restoration method to restore your silk rug's texture, colors, and shine.
Sometimes it becomes difficult for owners to handle and care for rugs. This becomes the case, especially when the weaves suffer damage due to heavy foot traffic, sunlight exposure, pet activity, etc. All this ultimately leads to the unraveling and loosening of the knots of a silk rug. Hence, the edges and fringes require reweaving due to the wear and tear they normally undergo.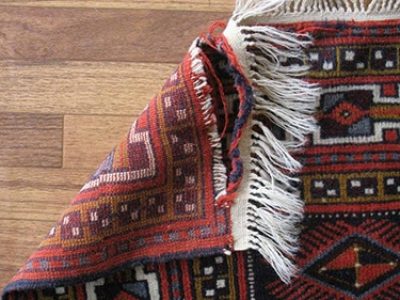 Reweaving is an essential part of rug care, and it is significant for rug restoration, especially if your silk rug is old or a family heirloom. The first step is to inspect the rug to determine the magnitude of the damage. They will clean the threads from the damaged areas and check for moth damage and broken tassels.
Before starting, the repairer will choose an appropriate color and texture of yarn (i.e., silk) for the reweaving process. The re-knitting of the warps and weft might appear unnatural and unpleasant if they don't find similar colors. Keep in mind that the silk rug is on handloom for the handweaving process.
For major damages, the experts at Smart Choice use techniques to preserve the original knots and structure while patching up the damaged parts. Lastly, after the hand-weaving process, we trim the rug to maintain consistency in material and the structure.
Water damage is a common cause of concern for people who live in areas susceptible to ceiling leakages, water seepage, and, more importantly, flood water. You can clean your silk rug at home if you identify the water damage within 48 hours. However, it is relatively difficult to handle the task on your own if the damage occurs due to contaminated water. In this case, you need to hire experts to restore the rug to its original condition.
Below are a few steps that you can follow to repair water damage
Extract water while minimizing the physical damage to the silk rug
Check for any fungal spread such as molds or mildew.
Identify the damaged parts and also clean the floor where the rug lays.
Sanitization might help in countering bad odor.
After careful cleaning and removing any molds or mildew, ensure to clean water-damaged areas carefully.
Now, hang the silk rug in the open air or use a high-speed fan or vacuum to dry the silk rug as quickly as possible.
Finally, deodorize and steam the entire rug to ensure in-depth sanitization.
At Smart Choice, our team of experts carefully assesses the level of water damage to your silk rug. In case of grey water contamination, the risk of rug deterioration might be high, and the experts might suggest an immediate restoration process. From assessment to cleaning fungus, drying to steaming, and sanitization to deodorizing, we use state-of-the-art technology to repair your silk rug.
Moth damage begins with moths laying eggs on the rugs, which feed on the fibers of the rugs to grow. You should be aware that silk rugs are rarely under a moth attack. However, moth damage can be incredibly painful, as it may lead to costly repairs and affect the appearance of the rug. The larvae sometimes eat entire portions of the rugs.
Therefore, it is important to seek professional help before you decide to throw the infested rug out in the dumpster with the fear that it might spread to other parts of the house.
Using anti-repellant solutions and safe chemicals is necessary for a deep clean in order to begin the reweaving process and patching of the damaged areas of the rug. Sunlight exposure tends to kill larvae effectively because dark and damp places serve as a breeding ground for larvae to survive. However, too much exposure to sunlight may lead to discoloration of the rug.
So, it is best to hire professional silk repair and restoration services. Our team will begin the reweaving process of the damaged areas. The process requires expertise to tie the knots in the same way and clean the knots and threads. Moreover, they will use matching material for maintaining color, texture, and design.
6. Blocking and Stretching
A rug might warp or wrinkle due to common reasons, such as pulling while under heavy furniture, foot traffic, improper cleaning, etc. The weaves may pull out, or crest or patches may appear, damaging the shape of your silk rug. As a result, the knots might loosen and lead to the unraveling of the entire rug.
Blocking and stretching of rugs require expertise, tools, and equipment. First, the experts will hang your silk rugs on a board and ensure that all corners are at the right angles and the edges are straight. They may keep the rug in the blocked position for three to four days.
Our team will brush the rug to smoothen it and then roll it from the edges. After repeating the process multiple times, the professionals will lay heavy objects to flatten the rugs and remove wrinkles and curls completely. Although the process may take days, it will ensure that all wrinkles are gone.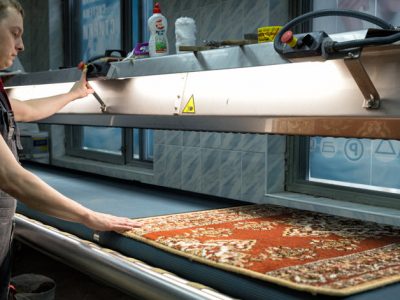 7. Overcasting & Stitching
Knots of your silk rug might start to loosen up. This can lead to unraveling and damaging the entire rug. You will need professional rug repair and restoration services to prevent the damage using overcasting and stitching process.
They repair the broken and damaged fringes and knots and tighten up the threads. Next, our expert weaver stitches a material at the ends of the silk rug. They ensure the stitching is not visible and also prevent any tear and wear damage.
Smart Choice Rug Repair & Restoration
Average rating:
6 reviews
Jun 30, 2021
The best repairing company for silk rugs
I don't post reviews usually but Smart Choice Carpet merits the most elevated recommendation. The best repairing company for silk rugs that we have at the moment. They always think about their work and need the cleaned rugs to look like new. 10/10
Jun 12, 2021
They worked effectively with our rug restoration
The folks from Smart Choice carpet were incredible! Had a surge work and they came out the very next day. They worked effectively with our rug restoration however exceeded all expectations with the shiny new-looking silk rug. Would definitely recruit them again. Strongly suggested!
May 20, 2021
My silk rug still looks extraordinary after fringe repair
It's been around 6 months since I hired the services from Smart Choice Carpet and my silk rug still looks extraordinary after fringe repair. The crew was very expert throughout the process, and I strongly suggest in case you're needing cleaning or repairing services!
May 3, 2021
My Turkish silk rug came out astounding
Totally Amazing! My Turkish silk rug came out astounding after moth & water damage repair! I love the wonderful way that Smart Choice Carpet utilized the machines to distinguish spots and afterward forcefully cleaned them.