Disinfecting and Sanitizing
Disinfecting spraying can be extremely valuable when it comes to minimising Coronavirus risk. The trouble is that most home cleaning equipment is utterly inadequate when it comes to dealing with deep bacteria, viruses, dirt and grime. That's where our professional disinfection services can step in to help you guarantee a clean and safe environment.
Our technicians are trained professionals when it comes to exterminate viruses and bacteria in high-risk areas such as door handles, bathrooms and others, as well as disinfecting and sterilizing the entire workspace.
Keeping Your Commercial Property Safe with Sanitizing Services
When you own or manage a commercial space, it's especially important to make sure that your occupants and people using said space are as safe as possible. Avoiding the spread of Coronavirus is everybody's responsibility. We provide all the services required to make sure that your commercial property is meeting all expectations when it comes to safety and health.
disinfection for 150+ viruses
Tile and grout disinfecting
Commercial spraying
Deep steam cleaning (carpets, rugs and curtains)
Upholstery steam cleaning
Floor disinfecting
Full Complex sterilizing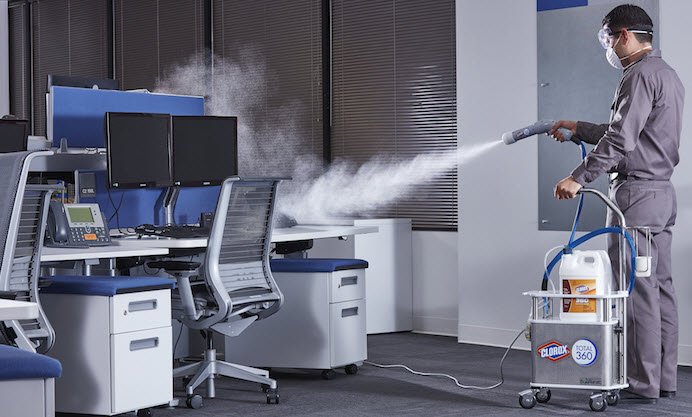 By making sure your commercial properties are deeply cleaned often, you can massively help to reduce the spread of Coronavirus in your local area and community. Commercial office sanitation lets your residents and people using your property know that you're taking the situation seriously.
Professional-Grade Sanitzing Services for Homes
We know you can't control what you run into and touch when you're out and about, but at home, you can make sure that everything is as clean and safe as possible. Home sanitizing and disinfection can help put your mind at ease. 
By utilizing powerful commercial cleaning expertise that's both environmentally sound and non-toxic, we can make sure that your home is a haven from Coronavirus, providing a good environment for your family and for potential future self-isolation.
If you have all the right precautions in place and you know that your home is as safe and clean as possible, there's no sense worrying any further about viruses and bacteria of any kind. Give us a call at Smart Choice and see how we can make this difficult time easier for you and your family.
Call Us Now!
Smart Choice Carpet
Call Us Now!
Smart Choice Rug Care
Disinfecting & Sanitizing
Average rating:
5 reviews
Apr 4, 2020
Smart Choice deserves a 5 stars!
The cleaning crew from Smart Choice deserves a 5-stars. Their client support and disinfecting aptitudes are the first-rates.  They needed to do some extra work at the facility because of the enormous size of the complex. You can totally trust Smart Choice disinfection services.
Apr 3, 2020
Office Sanitizing
I was looking for sanitizing my office surroundings but with somehow cheap rates. I couldn't find the best company but then suddenly someone told me about Smart Choice. Their rates were considerable and they agreed to do the job the very next day.  I was extremely impressed by their work. I Will definitely hire them again. Thumbs up!
Apr 2, 2020
Great solution for sterilizing and disinfecting
Our family members are highly addicted to spotless cleaning. We clean our little house thoroughly every week... but this is entirely different.  Taking into account the pandemic circumstances, we needed to bring in professional service. Smart Choice is a great solution for sterilizing and disinfecting your premises. They're just amazing.
Mar 29, 2020
Apartment disinfection
This is the second time I used Smart Choice Services to disinfect an apartment in Manhattan. Once again,  the work done by them was superb! Their work is truly so appreciable. You should definitely try them for once.