The Coronavirus outbreak has led the general public to adopt stricter hygienic practices. From office buildings to housing buildings and malls to retail stores, all commercial places are in dire need of consistent disinfection. Places, where hundreds of people come and go, need professional disinfection services. 
If you are concerned about the safety and hygiene of your commercial property, contact Smart Choice. We provide 100% Eco-Friendly commercial disinfection services using EPA-certified disinfectants. Our service will ensure complete sterilization of your property so that you, your staff, and clients remain safe of viruses and bacteria.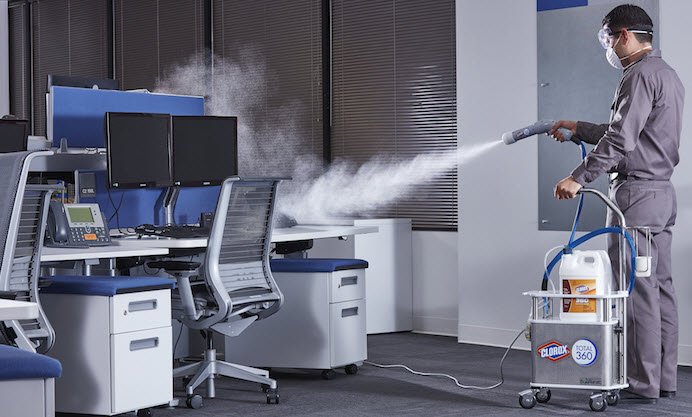 Complete Disinfection and Sanitizing Services
We make sure to disinfect every compact and tight space where cleaning isn't easy for you. Cleaning these areas by yourself is very dangerous and can damage electrical outlets and sensitive equipment. Our disinfection services include:
Commercial spraying
Floor disinfecting
Upholstery steam cleaning
Tile and grout disinfecting
Disinfecting sensitive equipment 
Disinfecting switchboards electrical cord & electrical outlets
Deep steam cleaning (carpets, rugs and curtains)
Full Complex sterilizing
By making sure your commercial properties are deeply cleaned often, you can massively help to reduce the spread of Coronavirus in your local area and community. Commercial office sanitation lets your residents and people using your property know that you're taking the situation seriously.
We offer advanced and safe commercial sterilization. We take into many factors of your building before any sterilization process. We take account of your area's hygiene, ventilation system, waste disposal management etc. After careful observation of your building, we decide on which sterilization method to choose.
We have several methods for commercial sterilization. One of the methods is chemical sterilization. Here, we use chemicals to sterilize high traffic surfaces and equipment. Usually, we use chemical sterilizers to clean the kitchen, bathroom, and waste disposal area. We make sure that our chemical sterilizers are EPA-certified, so they are safe and allergen-free.
We use other methods of sterilization, including steam sterilization. Depending upon your area's sanitation, we use hot steam or chemicals to sterilize the air and floors of your commercial building. This method uses hot steam to sterilize your rooms. This way, you can ensure that your property isn't exposed to any harmful and strong chemicals.
Call Us Now!
Smart Choice Carpet
Call Us Now!
Smart Choice Rug Care