Handmade Rug Repair and Restoration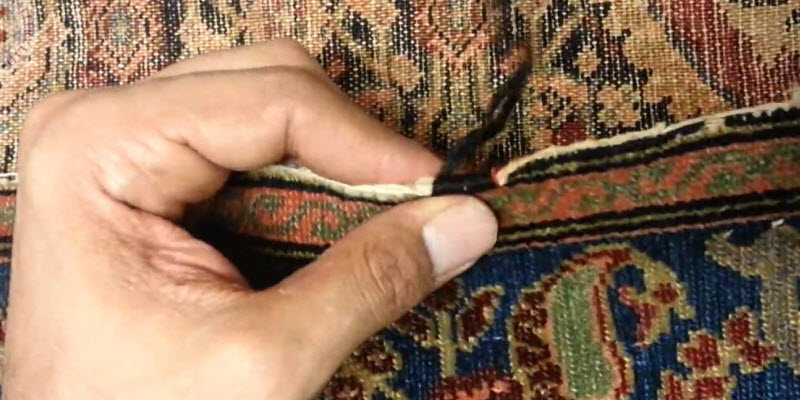 Handmade rugs can brighten up any living room and compliment any home décor. They represent the skilled craftsmanship, time, and pain-staking processes that go into completing one single piece. Hence, handmade rugs are far more valuable than machine-made rugs for many people. Moreover, due to their intricate designs and details, they require expert rug care.
Smart Choice takes pride in providing the best handmade rug repair and restoration services. We have the experience, expertise, tools, and equipment to restore your handmade rug to its original condition. Rest assured, we are experts in rug care and cater to your all rug repair and restoration needs.
Handmade Rug Repair Process
Smart Choice uses various techniques and the latest equipment to handle handmade rug repair processes. Handmade rugs are extremely delicate, and their vulnerability to damage depends on the type of material the rug comprises (silk, wool, cotton, etc.).
These rugs exude royalty, class, and luxury – each piece is no less than artwork as skilled artisans carefully weave these decorative rugs. They require intense rug care, especially in the case of damages or deterioration. For that reason, Smart Choice is the ideal choice for handmade rug repair and restoration to maintain its quality, color, and structure. Our experts have years of experience and know several rug repair techniques to ensure that your handmade rug retains its original state.
Here is a summary of the steps that we take once the handmade rug repair process is underway at Smart Choice.
First, the experts find the matching material for the damaged and torn parts of the handmade rugs. The material can be silk, cotton, wool, or any other to repair any tears, holes, rough patches, etc.
Next, our team places the rug on a vertical board to assess the damage and condition of the rug.
Experts repair the broken fringes, whether they are untied or entirely loose. They restore the shape of the handmade rug by stretching and reweaving it back to its original size.
They will use the exact matching weaving material to reweave the threads if the rug has holes and tears. Besides, they may add new fringes to prevent the rug from unraveling.
When you hire a professional rug restoration team, they also offer water and moth damage repair to prevent larvae growth and unpleasant odors.
In the next step, they eliminate the fade patches and discoloration using amazing techniques and skills.
After fringe repairing, reweaving, re-dyeing, stretching, and all other repair processes, professional rug repairers trim, wash, and dry the rug. They ensure to restore the rug to its original size, color, and texture.
Handmade rugs are works of art. They add a luxurious feel and help make a style statement. Whether you purchase it or get it custom-made, a handmade rug is always unique in some way and represents exclusivity. Due to their intricate designs and different techniques used, it is also advisable to take care of your handmade rugs in the most appropriate way.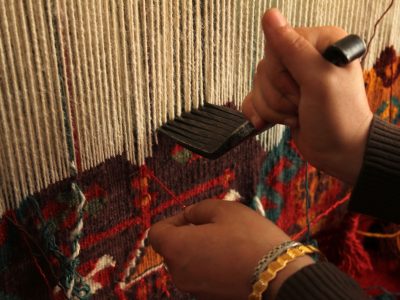 In homes, they are vulnerable to damage from smoke, dust, debris, dander, cooking pollutants, pet biting, and pests. Dust mites are a nuisance when it comes to handmade rugs, and it becomes imperative that you seek professional rug repair to maintain their color, texture, and beautiful designs.
If you don't take care of your rug, it might require extensive repair and restoration. In fact, lack of cleaning and maintenance will surely damage the handmade rugs. Besides, you should know that doing the repairs on your own might do more damage.
As these rugs are hand-woven and knotted, there are relatively low chances of fringes loosening or unraveling for a long period of time. However, some common activities and factors might result in unraveling and untying the knots of your handmade rug's fringes. High foot traffic, harsh cleaning, movement of heavy furniture, rubbing, and excessive friction can lead to wear and tear on the edges and fringes of a handmade rug.
Once the fringes start to untie, they loosen the entire structure of a handmade rug because the horizontal and vertical warps and wefts (i.e., fringes) hold the rug's foundation. Therefore, a timely solution of loose fringes can prevent further damage and the possible unraveling of the entire threading of a handmade rug. For that reason, professional rug care services are necessary.
At Smart Choice, we re-stitch and replace the fringes of your handmade rugs. The experts will tighten the knots on the fringes and may also weave the loose fringes altogether. This will prevent the unraveling and help you maintain and clean the handmade rug easily. Professional experts have better knowledge and experience to use tools for re-knotting and reweaving the tassels, which ensures to maintain the quality and value of your handmade rug.
Maintaining the color quality can be a difficult task, especially if it's a wool or handmade cotton rug. The fading of the color is inevitable in the long run, but that does not mean that you throw away your expensive rug that may also have sentimental value. You must identify and eliminate the factors that impact the color and texture of your decorative rug.
UV exposure (sunlight), dust accumulation, pests, and water damages can lead to the discoloration of the entire or major part of the handmade rug. Moreover, improper or poor cleaning methods, such as harsh cleaning and bleaching, may also cause fading and color bleeding. For maximum color restoration, you should look for signs of color damage and seek professional rug care services.
Experts will at first determine the areas and spots where color damage is more visible. Next, they will search for similar colors to create a restoration effect. More importantly, if the color damage is due to dust mites, moths, or simply dust, our team of professionals will work on them first. After an in-depth cleaning and washing, they will use sprays, syringes, and pointed airbrushes to color the faded spots.
For smaller areas, syringes are suitable, whereas experts use syringes for large patches. Color restoration experts will make sure to restore the handmade rug to its original condition. However, do not try to paint or color your handmade rug on your own because that will not only increase the damage to your rug but also make repairs much more costly.
Reweaving is a common repair process to prevent a handmade rug from damage when it has loose knots and threads with broken fringes. Once the fringes break and the knots untie, the rug is at the risk of unraveling. It can occur due to high foot traffic, abrasion from furniture, pet chewing, and improper cleaning methods. 
These are some of the common causes for the damage to fibers and threads of the handmade rugs. But if your entire handmade rug is unraveling, there is no need to throw it away. Instead, you can bring your damaged rug to Smart Choice for expert rug repair and restoration services.
Our team ensures to restore the beauty of your handmade rug. The process begins by placing your handmade rug on a handloom where the expert craftsmen take care of it. They first inspect the rug for any signs of water damage, moth damage, and wear and tear. Next, the experts search for the same material for repair for the best results.
Following that, experts will re-knit the warps and wefts depending on the severity of the damage. They will replace large damaged portions with newly-sewn pieces. Lastly, experts trim the handmade rug to cut out excess fibers from it and maintain consistency in appearance.
Your handmade rug might suffer from water damage in the long run despite all the cleanliness and maintenance. Water damage can occur due to flood water, seepage, ceiling leakages, etc. What you should understand is that you need to take prompt action; else, it can make your handmade rug restoration difficult.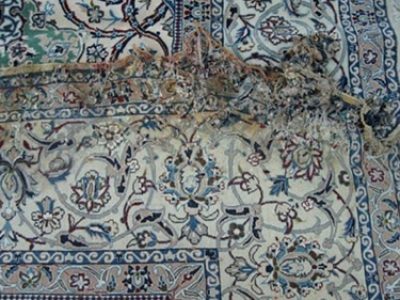 Excessive moisture inside the rug can lead to fungi growth, such as molds and mildew. Further, it can also cause discoloration and a color bleeding effect on your rug if it absorbs and keeps the water for too long. Moreover, greywater can contaminate your handmade rug with bacteria and germs that might also lead to pests and bug growth.
However, if you notice water damage in a span of 48 hours, you might be able to clean and dry the rug and prevent the damage. Otherwise, you will need professional help to avoid costly repairs. At Smart Choice, we offer expert rug care for all types of rugs.
They will take care of the infestation and pests and identify the water-damaged spots. Our team uses special tools to remove the water and restrict any fungi growth. Next, they dry the rug and use deodorizing and sanitization techniques to ensure effective germ and odor control.
Moth damage is detrimental to handmade wool rugs because they have natural fibers inside. Other materials such as cotton might also fall victim to moth attacks. However, any handmade silk rug is less prone to moths than wool or cotton. Despite this, the larvae eat away the fibers of your handmade rugs as food. It can create rough patches along the edges and corners of the rug. Some of the common signs that can alert you of such conditions are spiderwebs, tiny holes in the rug, cocoons moving around the rug, etc.
While exposure to sunlight can kill larvae and eggs, it is best to get professional rug care services. Experts at Smart Choice will carry out deep cleaning and use hot water to eliminate larvae and eggs from the rug's fibers. After that, they will steam wash and sanitize the rug.
Once they remove moths from the rug, the rug restoration team will start the selection of material to begin the reweaving and repairing process of the tiny holes and rough patches. Smart Choice ensures undetectable repairs and fastens the fringes to prevent your handmade rug from unraveling.
6. Blocking and Stretching
Blocking and stretching are two repair processes that deal with unnecessary wrinkles or curls on your handmade rugs. It employs the use of special tools and high-quality equipment to restore your handmade rug to its original state. Rugs warp because of harsh cleaning, tearing, and excessive pulling. The curls and wrinkles might not straighten if you place a heavy object on it yourself; professional rug restoration can prove helpful.
At Smart Choice, our rug restoration team will smoothly brush the entire rug. Bear in mind, harsh or forceful brushing can lead to further damage. Therefore, our experts know the technique to remove wrinkles and unwanted warps. They repeat the process multiple times and then place a heavy object to flatten the rug's surface.
The flattening may take several days to ensure that the sides of your handmade rugs do not curl up again. Most importantly, the weavers will press the rug's surface to guarantee the removal of wrinkles and curls. Once the curls and wrinkles are gone, stretching will put your handmade rug back to its original size.
7. Overcasting & Stitching
Sometimes, fringes of rugs untie, and the knots loosen up, which leads to the unraveling of the entire warp and weft structure of handmade rugs. Thus, you will end up with costly restorations and repairs or may decide to throw away your handmade rug.
Nevertheless, there are ways to sew the broken fringes back in place. Smart Choice offers overcasting, which is a process in which our rug repair team will stitch material to the sides and corners of your handmade rug. This will fasten the fringes and threads to prevent any unraveling in the future.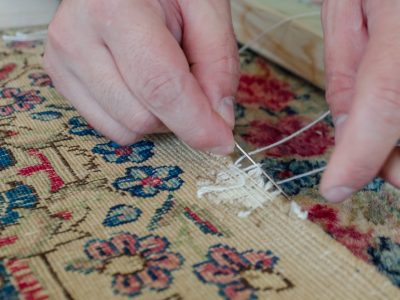 Smart Choice Rug Repair & Restoration
Average rating:
4 reviews
Jun 16, 2021
My grandma was excited with their work
Smart Choice Carpet cleaned & repaired the fringes of 4 antique Persian handmade rugs for my Grandparents and my grandma was excited with their work. The harmed regions and lines were re-woven with coordinating with fleece to the first tone. Thumbs up!
Jun 2, 2021
Incredible workmanship on my Kashmir silk handmade rug
Incredible workmanship on my Kashmir silk handmade rug with a very complex design. My pet destroyed it by biting the edges, and Smart Choice Carpet fixed it, genuinely a phenomenal work. It merited the wait & definitely will hire them again.
May 25, 2021
The staff at Smart Choice Carpets plainly knows rugs
Accommodating, cordial, and expert. The staff at Smart Choice Carpets plainly knows rugs. I purchased a 6x10' silk handmade rug at bartering and acquired it to be washed. It sparkles now! The simply negative to my experience is that my other oriental carpets comparatively look soiled.
May 2, 2021
Mastery in cleaning and retouching rugs
Fantastic help and mastery in cleaning and retouching rugs. They also provide pick & drop without an additional charge. Incredible tender loving care. Exceptionally satisfied!